Company profile
SSY Car rental is a part of the SSY Group and has been in car rental business since 2013. There are many other car rental companies in Yangon but what sets SSY apart from other companies is that we focus on core values such as strong customer service and excellent value for money. We aim to provide our customers with high quality services in the rental of car for both long and short-term periods, for private individuals and companies or even just for the travel purposes. We are committed to offer the best cars at the best rates along with the best service. We are available to attend the customer's needs at 24/7. We offer our customers with extensive services and information.
English Speaking Drivers
Coordinated meet and Greet service
Chargeable wifi service on board
Well maintained vehicles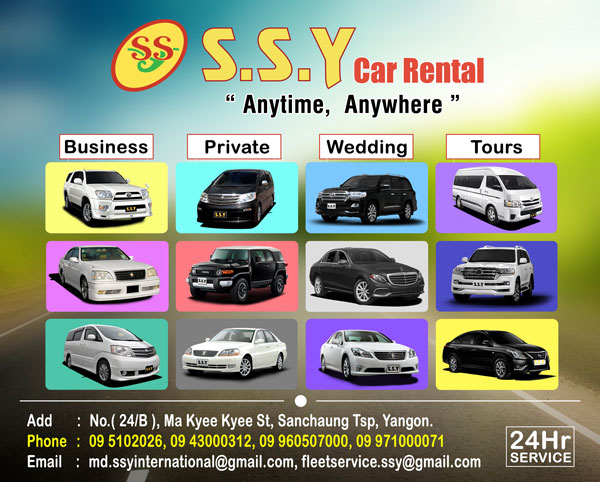 We Increased our fleet year by year to provide growing customers. Our Friendly team is always ready to help your needs. For more experience in Myanmar, we are also partnered with Beyond Dream Travel & Tour. For help with flights, accommodations , trip planning & tours, please contact : sales.beyonddream@gmail.com, 0932382283.
We offer cooperate transportation services for your business meetings smoother.